A top-notch haven of a spacious lounge and private rooms for indulging in an exceptional products experience.
Where but at CA Kuala Lumpur, to live it up with the best of products and drinks.
Events
Spanning three floors and some 9,000 sq ft, CA Kuala Lumpur is equally ideal for corporate events such as product launches as it is for private parties.
Private Room
Taking centre-stage on the second floor is the huge opulently furnished private room, complete with a state-of-the-art karaoke system and giant screen.
Perfect for celebrations and gatherings, this party venue with padded walls promises a swinging good time, revving up the music and singing up a storm!
Whether a meal or a snack, a small menu offers tempting selections to whet appetites.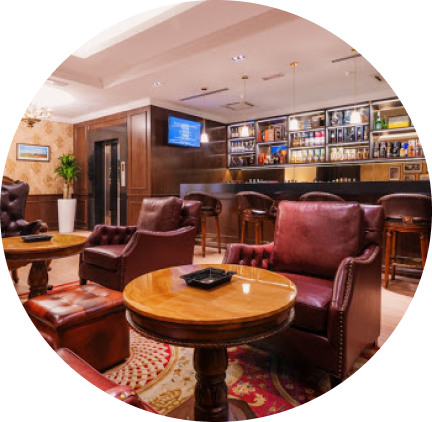 Second Floor
The second floor also has a boardroom-style private room designed for mixing business with pleasure. It can accommodate 16 guests.
It also has two smaller rooms for cosier meetings and more intimate events.
---
Frequently Asked Questions
Q: Where can I find out about the latest special offers?
A: To find out about the latest promotions and offers, make sure you sign up for our newsletter.
Q: Where can I ask for advice or recommendations?
A: Whether you are new to products or a seasoned aficionado, please remember we are here to help. Feel free to contact us, and we will be delighted to hear from you.
Q: Why should I pay annual member's fee if my membership expires? Should I continue as a member of Cohiba Atmosphere?
A: CA's membership fee is value for money, considering the many advantages members enjoy such as discounts on purchases and member-only perks like lockers within the walk-in humidor. Do refer to the full list of Membership Privileges.